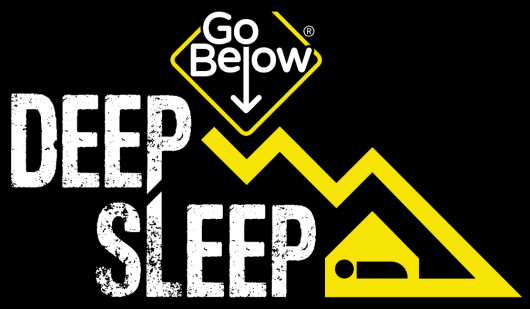 The Deepest Sleep in the World
Available from April 2023 is an experience like no other on Earth! Journey your way down through an abandoned Victorian slate mine to reach the remote off-grid adventure camp of Deep Sleep. Set a staggering 1,375 vertical feet below the mountains of Snowdonia above, this is the deepest underground sleep on the planet... by far.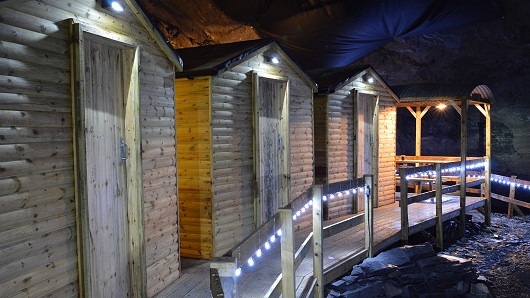 Cabins Exterior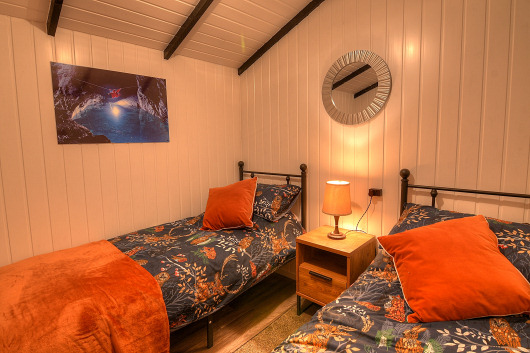 Cabin Interior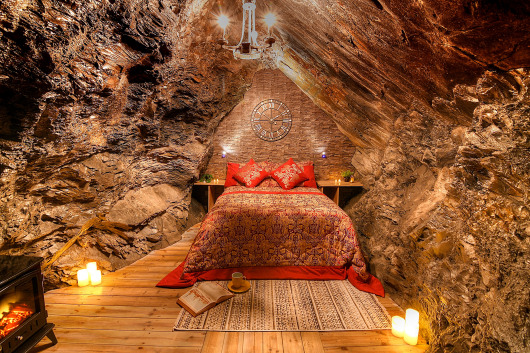 The Grotto Room
Deep Sleep comprises of four private twin-bed cabins and a romantic grotto with a double bed. All bedding is provided.
What can I expect on a Deep Sleep experience?
Deep Sleep runs once per week, on a Saturday Night through to Sunday Morning.
Your trip leader will be waiting to meet you at 5PM at our Tanygrisiau Base, near Blaenau Ffestiniog. From here we begin a 45 minute walk up into the mountains, steep at times, but remote and very beautiful at the top!
Here we stop at a little cottage to kit up with a helmet, light, harness and Wellington boots. Then its time to say goodbye to the outside world and head into the depths of the worlds largest and deepest abandoned slate mine.
The route down through the old workings is steep and challenging. There are ancient miners stairways, decaying bridges and scrambles to negotiate. Your instructor will provide plenty of historical information about the fascinating environment - there is no rush. After around an hour, you'll be 1,375 feet underground - and a large steel door tells you that you've arrived at Deep Sleep!
A warm drink and some information will be provided - then it's time to relax for the rest of the evening. We'll provide you with a complimentary expedition-style meal (Meat, Vegan and Vegetarian options available) to enjoy at our large covered picnic table. Then you are welcome to retire to your bed for a very deep sleep!
Your instructor and a member of technical staff will remain in their own cabins in the Deep Sleep chamber with you for the night (you won't be left alone in the mine!). Then we all wake for 8am, to a warm drink and some simple breakfast snacks before starting the long ascent up to the surface and daylight again. Your party can expect to be back down to the cars around 10am - 10:30am, roughly.
Total Price for Two in Private Cabin £350

Total Price for Two in Grotto £550
This includes evening expedition-style meal, all hot drinks, and breakfast snacks in the morning. All bedding provided. These prices are for the whole cabin.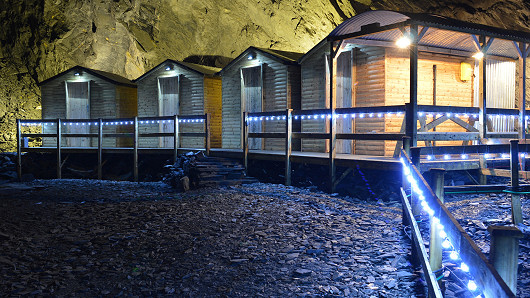 Deep Sleep Cabin Availability
Deep Sleep Grotto Availability
Frequently Asked Questions
(all specifications and details given are subject to change)
How much does it cost?
The price is £350 for a cabin (that takes two people), or £550 for the Grotto (also takes two people). This includes food and drink.
Can I have a cabin to myself?
Yes, you can stay in a cabin or the Grotto as a single occupant, but please be aware that the price remains the same as for two.
Do I get an evening meal?
A simple expedition-style meal will be available at the camp, with meat, vegetarian and vegan options. You are also welcome to bring your own food and drink.
Are children be allowed?
Children aged 14 and over are be permitted to accompany adults to Deep Sleep.
What about bedding?
We provide all the bedding.
How cold is it?
The mine at 1,375 foot depth provides an ambient all-year-round temperature of 10 degrees Celsius. This is definitely chilly, but about the same as the night temperature in Wales during June and September. So if you were camping in a tent outside during these months, it would feel similar.

The cabins are thermally lined with thick insulation, so they do certainly warm up and are quite cosy. Outside of the cabins, the chamber itself feels quite cold, especially after sitting around for a length of time. Warm clothes are recommended.
Can I book a cabin as a private holiday base?
Deep Sleep isn't a hotel, a bed-and-breakfast or self-catering accommodation. The overnight stay is a remote-camp adventure experience.
Is wi-fi available?
Deep Sleep does have wi-fi, provided through a 1km long armoured Ethernet cable from a 4G antenna on the surface. There is no mobile phone reception.
Is there a toilet?
Yes there is, but like most remote camps - the toilet is not connected to a waste system but works more like a composting toilet. It's use is very simple and Instructions will be provided.
How is Deep Sleep powered?
All electric lighting (and the wi-fi!) in Deep Sleep is low-voltage and powered from 12v batteries. These batteries are charged by the force of falling water within the mine itself using micro-hydro turbines. There is no grid connection, so Deep Sleep is self-powered using the mines own natural water courses. A Euro V compliant diesel generator on the surface provides backup power to charge the batteries, if there hasn't been much rain lately.
Is it totally silent?
Mines are actually rarely totally silent and depending on recent weather, it is not unusual to hear the sound of falling water, either as occasional drips or even small waterfalls. This is normal, but if you think this could be disturb you then we recommend bringing some mini ear plugs. The cabins are well insulated but not completely sound proof.
How Dark is it?
The cabins all have internal lights, including bedside lights, that can be controlled individually. There is also a backup torch in each room. The camp lights remain on all night.
Can I smoke or drink alcohol?
Unfortunately not no, sorry.
How fit do I have to be?
The journey on foot to the mine entrance and then though the mine to Deep Sleep involves two hours or more of walking, scrambling, ducking and balancing. It does require a moderate level of fitness and agility.
How much stuff can I bring?
Everything that you wish to bring needs to fit into a back pack, so it's best to travel light. Suitcases and shoulder bags are impractical underground, and remember that you're going to have to transport your stuff a long way though the mine. Less is definitely more - don't overburden yourself.
What about allergies?
The mine air is cool and clear. People who usually suffer from Hay-Fever often find being underground a welcome relief in the summer, as the mine air contains no pollen. However, it is not totally devoid of life, some species of fungi can be found growing in the darker, damper corners of the mine and sometimes it can be found on the wooden structures. This should be a consideration for anybody with a serious allergy to fungi.
Is there water available?
There is running water from taps that comes from a spring within the mine itself. It has been laboratory-tested and found to be of excellent quality.
Are the cabins damp?
Most mines and caves in the UK have quite high humidity. The cabins are fitted with dehumidifiers that run when they are not being used for sleeping in, which keeps the humidity level more like that found in a normal building on the surface. Ironically, the dehumidifiers are powered by falling water from within the mine itself.