Sure to satisfy the thrill seeker in you, our Go Below® Challenge presents you with a series of exciting obstacles on a subterranean journey that'll leave you buzzing for more!
Starting from our Conwy Falls base you'll be kitted up with a harness, helmet, lamp, Wellington boots and safety equipment before heading off to the mine. You'll enjoy some stunning scenery on the walk up before heading into the darkness...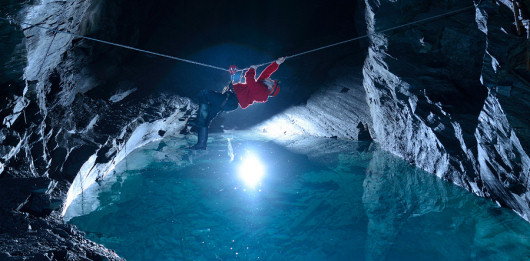 On your underground journey through the mountain you'll encounter forgotten deep blue lakes, lofty caverns and ancient mining machinery lying abandoned in the darkness. You'll cross zip lines and traverses, climb rock faces and waterfalls, boat across water and abseil off ledges for that thrilling adrenaline rush that'll leave you feeling totally exhilarated! Should you also want to know about the mining industry and its history during your adventure, our knowledgeable guides will happily fill you in!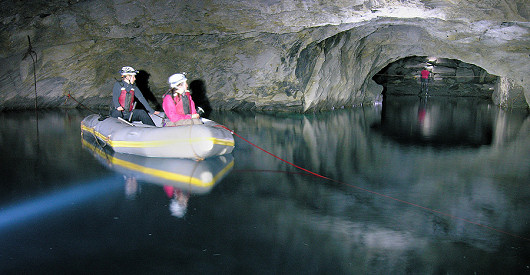 What's involved in the Go Below® Challenge trip?
Whatever the weather, all year round, the Go Below® Challenge is a guided half-day (approx 5 hours) experience intended for those looking for a unique adventure activity which is sporty, physical and fun. No experience is necessary and all safety equipment is provided. You won't have to squeeze through tight spaces and although you might get splashed, you won't be immersed in water - unless you want to be!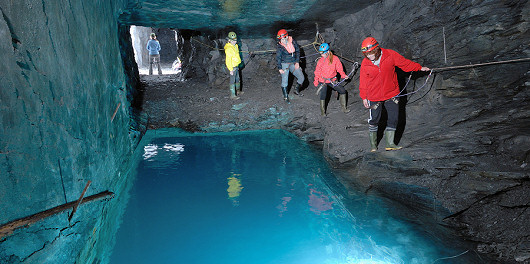 £59 (off peak)

£65 (peak)
We welcome individuals, couples, families, friends and groups who feel they can apply a little agility on the trip and are up for getting good exercise! The more daring activities can be bypassed if you don't feel confident enough to try them. However we don't recommend the Go Below® Challenge for those who are very unfit, excessively overweight, pregnant, infirm or of a nervous disposition.
Minimum age for the Go Below Challenge trip is 10 years old. We request that children aged between 10 and 17 years are accompanied by a responsible adult of 18 years plus.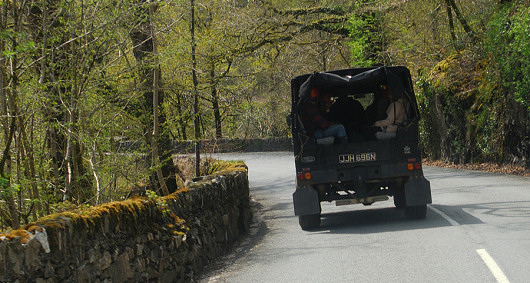 Go Below® Challenge Schedule
See our Interactive Trip Calendar for more information.