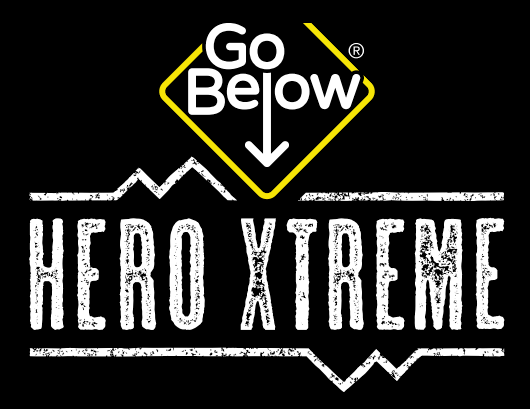 The Largest and Deepest Slate Mine in the World
The Go Below Hero Xtreme trip starts with a 1/2 hour walk to reach the foreboding 1860's entrance to the largest and deepest slate mine in the world - Cwmorthin.
Known amongst the quarrymen who worked there as The Slaughterhouse, due to its fearsome reputation for danger - the mine is as magnificent as it is massive. Over 50 miles of tunnels and caverns hewn from under the mountain go to make up a three dimensional labyrinth which descends deeper than any other slate mine in the world.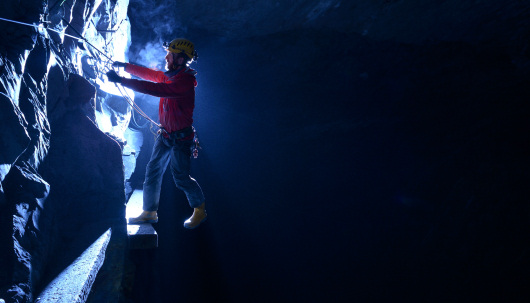 A Hero Xtreme visitor navigates a Miners Catwalk along a high chamber wall
An All-Day Adventure of Epic Proportions!
The Go Below Hero Xtreme trip takes visitors on a challenging, adrenaline-fuelled journey through vast tracts of Victorian mine workings not worked since the late 1800's.
After getting kitted up at our Tanygrisiau Base with boots, helmet and harness, visitors will then walk up into the mountains to begin their underground day of high adventure.
The route crosses ziplines and bridges over gaping chasms, follows ancient ledges and walkways past hideous drops and navigates ladders on towering chamber walls. It passes over deep water, up and down time-worn miners stairways, past old and derelict machinery and even underground buildings still survive in the gloom.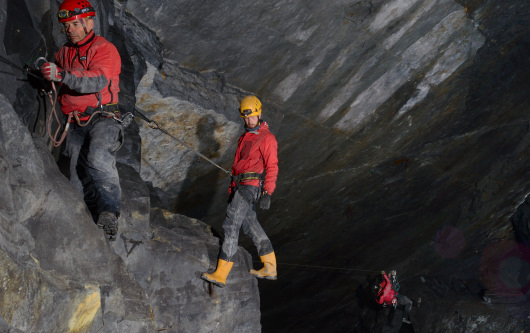 Hero Xtreme visitors crossing a zipline over a 100' drop then traversing around a series of exposed ledges
Eventually the journey reaches a depth of over 1,300 vertical feet, the deepest publically accessible point in Great Britain, before winding its way slowly back up an equally challenging series of obstacles to emerge back into the daylight - tired but grinning!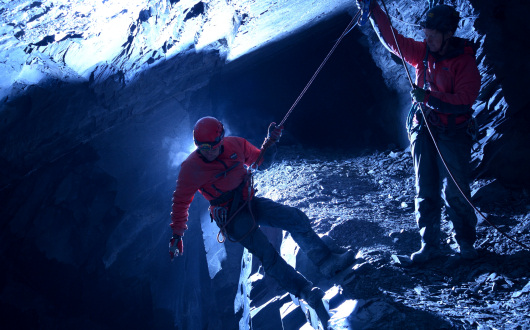 A Hero Xtreme visitor abseils into the abyss as part of the journey to the UK's deepest accessible point
The Worlds Most Xtreme Picnic Bench!
As part of the Hero Xtreme adventure, visitors are invited to stop for their lunch on the infamous Xtreme Picnic Bench - little more than a few planks of wood bolted to the side of a 120' high chamber wall! Surprisingly comfortable, it will accommodate 12 people and provides sobering views into the vast expanse of emptiness below...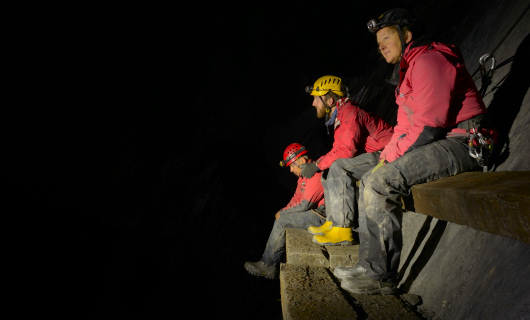 £89 (off peak) £99 (peak)
Minimum age 14. Under 18's must be accompanied by an adult
Hero Xtreme Schedule!
Frequently Asked Questions
How long will this trip last?
The Hero Xtreme lasts approximately 6 hours.
What is the minimum age?
The Hero Xtreme is an adult trip but we also welcome adventurous youngsters from 14 years of age providing that they are accompanied by a capable and responsible adult on a 1:1 ratio.
How dangerous is it?
Participants are given a high level of self-responsibility on our trips, which we feel is a vital ingredient for true adventure. As such, participants have to take the trip absolutely seriously and adopt a mature and sensible attitude to ensure their own safety throughout the trip.
How tough is the Hero Xtreme trip?
The Hero Xtreme is a physically tough day out so all participants will need be capable of spending a number of hours on their feet and pulling themselves across, up or down obstacles. The route provides significant exposure to huge drops as well as short sections of crawling-height tunnel. The walk to the mine entrance is about 1/2 an hour, and is mostly uphill.

We do not use high rope course style continuous-attachment systems, but caving style cowstails which we provide all the training in how to use. Previous underground experience is not necessary but participants need to be level-headed and responsible individuals who can follow instructions carefully.

If you are no good with heights, you won't like the Hero Xtreme trip at all.
What sort of things are involved on the Hero Xtreme trip?
There is an uphill walk of around 1/2 hour to get to the mine. Expect many of our signature terrors by the truck-load: ziplines, traverses, abseils, heights, bridges and more.

As with our other trips, there won't be any squeezing through tight spaces but expect to crawl down a few short low tunnel sections.
Will I be on my own?
You will complete the trip in a group (up to 12 people) with two experienced trip leaders.
Where does this trip run from?
This trip runs from our Tanygrisiau Base in Blaenau Ffestiniog.
Media Information?
If you would like to feature this adventure in your publication (Print or Online) please consider downloading our Press Pack below. It is a ZIP file 52mb in size and contains a short MP4 video file and several JPG photographs.

Please read the included copyright file for usage limitations.


HX_Press_Pack.zip 52mb